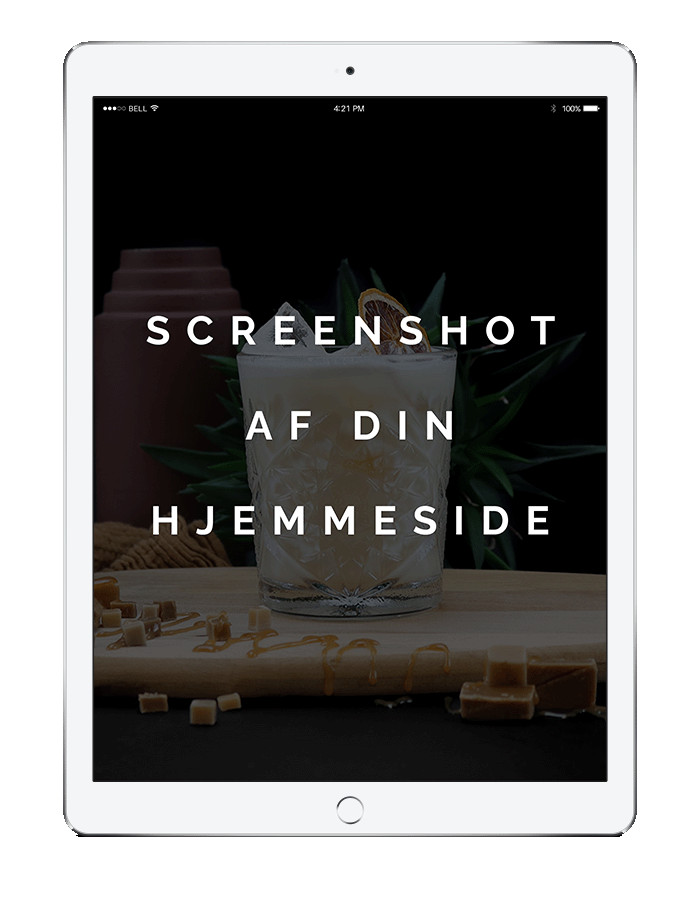 Cocktails, mocktails & shots
We have a wide selection of cocktails!
In addition, we also have 6 delicious mocktails. The majority of our other cocktails can also be made without alcohol.
The differences between our packages
Below you can see the difference between the three packages.
Number of optional cocktail
Free Gin & Tonic + Cuba Libre
Complete bar incl. all equipment
Ice cubes & fresh ingredients
Well-known quality brands
See the distribution of brands on our bottles according to the package you choose.
Bronze
| | |
| --- | --- |
| Appelsin Spritz | Artspritz Aperitivo Italia |
| Cachaca | Brandy Pitú Cachaca |
| Campari | Campari |
| Cognac | Cognac De Luze VS Fine 40% |
| Gin | Gin Gordon's Dry |
| Jægermeister | Bitter Jægermeister |
| Rom (lys) | Rom Captain Morgan White |
| Rom (mørk) | Rom Captain Morgan Black |
| Tequila | Tequila Olmeca Blanco |
| Vanilje Vodka | Vodka Absolut Vanilla |
| Vermouth (sød) | Vermouth Martini Rosso |
| Vermouth (tør) | Vermouth Martini Bianco |
| Vodka | Vodka Smirnoff Red |
| Whiskey (bourbon) | Whisky Johnnie Walker Red Label |
| Whiskey (Irish) | Whisky Johnnie Walker Red Label |
Silver
| | |
| --- | --- |
| Appelsin Spritz | Bitter Aperol |
| Cachaca | Brandy Pitú Cachaca |
| Campari | Campari |
| Cognac | Cognac De Luze VS Fine 40% |
| Gin | Gin Beefeater |
| Jægermeister | Bitter Jægermeister |
| Rom (lys) | Rom Havana Club 3-års |
| Rom (mørk) | Rom Havana Club Especial |
| Tequila | Tequila Olmeca Blanco |
| Vanilje Vodka | Vodka Absolut Vanilla |
| Vermouth (sød) | Vermouth Martini Rosso |
| Vermouth (tør) | Vermouth Martini Bianco |
| Vodka | Vodka Absolut |
| Whiskey (bourbon) | Bourbon 4 Roses Yellow |
| Whiskey (Irish) | Whisky Jameson Irsk |
Gold
| | |
| --- | --- |
| Appelsin Spritz | Bitter Aperol |
| Cachaca | Brandy Pitú Cachaca |
| Campari | Campari |
| Cognac | Cognac De Luze VS Fine 40% |
| Gin | Gin Hendricks |
| Jægermeister | Bitter Jægermeister |
| Rom (lys) | Rom Havana Club 3-års |
| Rom (mørk) | Rom Havana Club 7-års |
| Tequila | Tequila Don Julio Blanco |
| Vanilje Vodka | Vodka Absolut Vanilla |
| Vermouth (sød) | Vermouth Martini Rosso |
| Vermouth (tør) | Vermouth Martini Bianco |
| Vodka | Vodka Ciroc |
| Whiskey (bourbon) | Bourbon Bulleit Whisky |
| Whiskey (Irish) | Whisky Jameson Irsk |
Other solutions and products
If you want to serve more than cocktails, we also offer the following: