The Gin Basil Smash cocktail has a catchy, neon green hue. But it is without a doubt the refreshing kick of the basil aroma that makes you order one more. Gin Basil Smash is developed on a classic, which has got a twist here.
Ingrediets

5 cl gin
2,5 cl lemon juice
2,5 cl sugar syrup
5 – 10 pcs basil leaves
1 slice of dried lemon
115 g ice cubes
Instructions

Pour gin, lemon juice, sugar syrup and basil into a shaker with ice cubes.
Shake thoroughly.
Fill a lowball glass with ice cubes.
Strain the mixture into the glass.
Garnish with a slice of dried lemon and serve.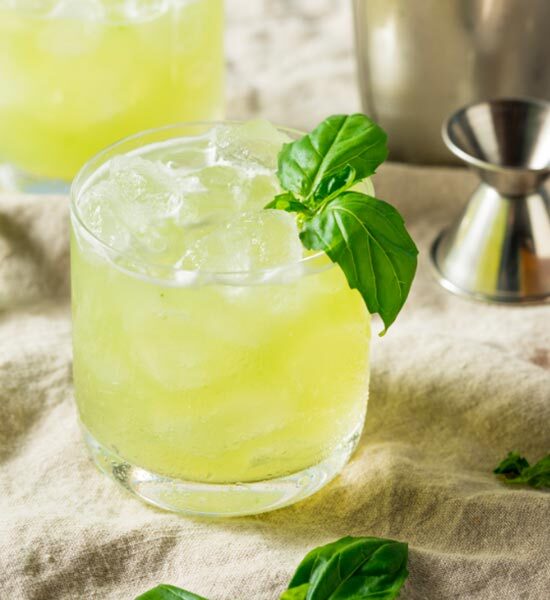 Cocktail card with Gin Basil Smash
May your cocktail card offer new taste experiences? Then Gin Basil Smash is an obvious candidate! It is relatively few years since the recipe was developed and as one of the few cocktails, it offers the taste of basil.
These cocktails also fit into the modern cocktail menu:
Passionada with flavors of vanilla, orange and passion fruit.
Frozen Gin Hass® with slush ice sensations.
Rhubarb Sour with its sour taste nuances.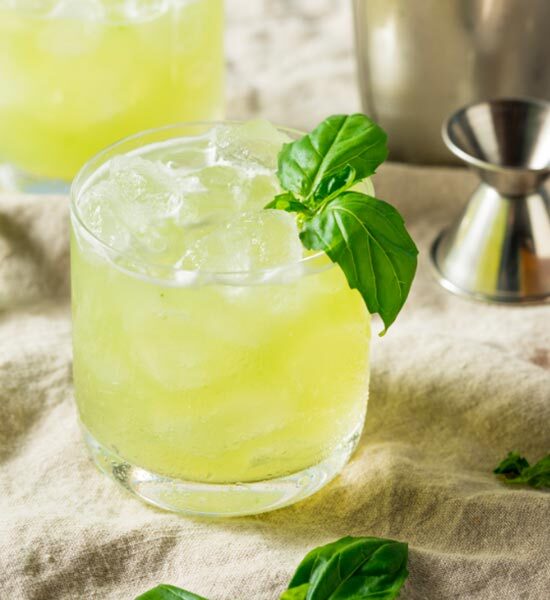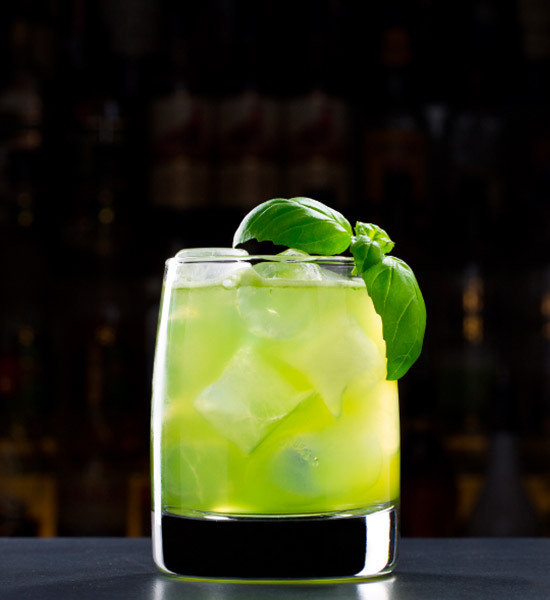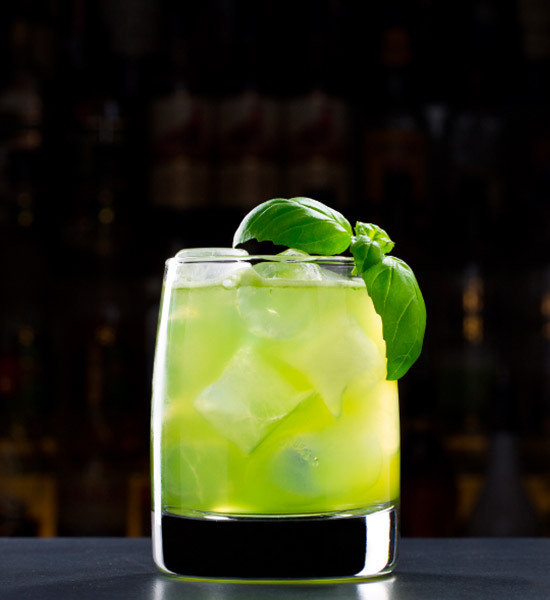 Gin Basil Smash origin
One often has to search through various cocktail books to get a better idea of a cocktail's history. But that is (thankfully) not the case with Gin Basil Smash.
The recipe for a Gin Basil Smash is no older than 2008. here it was first mixed in Hamburg at a popular cocktail bar called Le Lion Bar de Paris.
In the summer of 2008, Gin Basil Smash was the huge cocktail hit in Germany, which quickly spread to a large part of the world. It was with good reason. For the same year, it won the award for "Best New Cocktail" at the Tales of the Cocktails cocktail festival.
Enjoy cocktails all inclusive
Should the party be with a free bar? Rent our complete bar solution with everything included: bartender, spirits, ice cubes, glasses and much more!